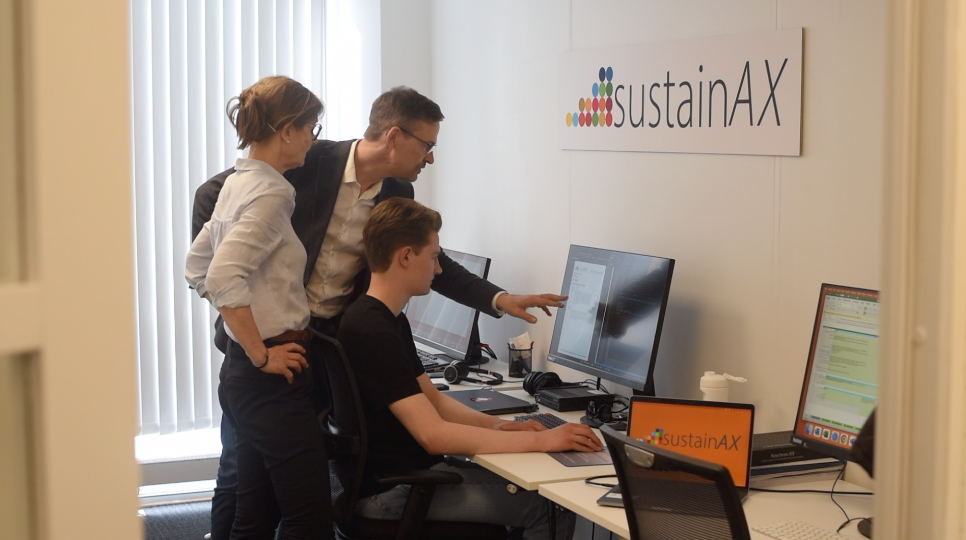 Are you our new ESG* analyst colleague?
Are you analytical, like researching and interested in sustainability and ESG? Are you looking for a new challenge?

We are expanding as our activity is increasing and therefore, we are looking for a new colleague.

You will take part in training that will support your development to become a top ESG analyst.

*In case this is new to you, ESG stands for Environmental, Social and Governance
The job – ESG research analyst – responsibilities:
Conduct ESG research and ESG scoring at the required level of quality using the sustainAX methodology.

ESG research is conducted based on a company's annual report, sustainability report, web sites and other public documents of interest.

As an ESG analyst, you will be looking to highlight the material ESG risks that the company being researched has not addressed.

Take part in the 4 eyes control of ESG research finalised by colleagues.

Take part in planned discussions on the sustainAX methodology improvement.

Take part in ad-hoc discussions related to the ESG research field.

Execute other relevant tasks for sustainAX as per demand, we're a small team in a start-up!
Your profile:
Minimum 5 years of experience as analyst, risk specialist, consultant, controller, accountant, back or middle-office, specialist sales and similar positions in finance (banking, insurance, asset management, etc.) or in the corporate world.

Minimum bachelor's degree in economy, accounting, finance or similar. A master's degree in relevant areas is a plus.

It will be an advantage if you already have worked with ESG and sustainability, but this is not a requirement as our methodology will get you quicker into it. Of course, if you already have the CESGA (Certified ESG Analyst) or equivalent it is a strong advantage.

Other qualities that would help you succeed in the job, like for instance:

Ability to summarise key findings concisely and in an accessible way.

Resourceful, flexible, driven and self-motivated.

Ability to work and adapt in a changing environment.

Willing to embrace the unknown, change and innovation.

Languages: We require full professional proficiency of spoken, read and written English in addition to full professional proficiency for one of the following Nordic languages: Swedish, Danish or Norwegian.
What we expect:
A person easy to cooperate with that has a strong willingness to learn new things and that has strong analytical capabilities.

Production of fundamental ESG research and ESG scoring based on sustainAX methodology (Down to the hard facts: one of the KPI for success in the job is number of ESG research reports per month at required level of quality, where target will increase gradually with experience, we already map this today).

Effort to study for and succeed the CESGA exam within a year (Certified ESG Analyst – EFFAS) if you do not already have it. We offer the cost of the study including the exam fee and expect you to put down the required hours of study (60-100 depending on your qualifications).

We require a proof of no criminal history.
Onboarding process:
For the candidate joining sustainAX, we foresee the following process to integrate the person in our team.

Practicalities, get a desk and a portable computer.

Sign up for the CESGA exam if not already passed and start of studies.

Start of the introduction to the sustainAX ESG research methodology, this is a part where we'll work a lot together if you are not experienced in ESG research.

Regular formal meetings to ensure the onboarding process is working well.

Every day follow up.
 Other:
Our office is in Malmö, Sweden near the central station and we prefer that our new colleague works with us here onsite. As soon as the sustainAX methodology is well understood and correctly applied, we can discuss remote work possibilities.

Of course, the closer a candidate is to the optimal profile (read experienced ESG analyst having worked for one of the global ESG research providers), the more remote work is possible.

Despite all the words and requirements, we are looking to hire a person and still being a small company, the personal fit is important for good integration in the team!
Process:
Send us an email telling us why sustainAX is the right company for you and why our new ESG analyst role is the right position for you!

Send this to us at TheNewEsgAnalyst@sustainax.com
About sustainAX:
A brand-new start up in 2021.

Today with two full time ESG analysts and one part time IT developer.

Proprietary ESG research and ESG scoring methodology.

A library of 175 ESG research reports available for clients.

Also has activities in EU Sustainable Finance consulting.

More about us here: sustainax.com